This is the story of how a girl from a small village in Zambia became Woman of the Year for one of the most prestigious hospitality associations in the world. Her name is Aggie Maseko, a woman now crowned Relais & Châteaux's Woman of the Year 2023.
Aggie was born in the village of Njilamanda in the Chipata district of Zambia and grew up with eight siblings, her mother a housewife and her father a general worker in the government forestry department.Today, she is the Lodge Manager at the Relais & Châteaux accredited Royal Chundu, on the banks of the Zambezi River. That winding life source that connects Zambia and Zimbabwe and soars over the Mosi–oa–Tunya, known as the Victoria Falls. Aggie lives alongside this river with her husband, Kaphaizi Banda, Chef at Royal Chundu, and daughters Muli & Mwiza.
Aggie left Zambia in 2001 and joined her husband in South Africa where she started her journey in the tourism and hospitality industry. In 2012, she and her husband returned to Zambia and started a new life at Royal Chundu.
Aggie took to the stage in Venice this year, in front of hundreds of Relais & Châteaux hoteliers from France, America, Japan, New Zealand, and elsewhere around the world, to accept a trophy that not only honours her influence in travel but in her community. How her path led her here has a lot to do with the kind of human Aggie is.
"For me, it has been vital to create opportunities for others," says Aggie, "whether it be for female gardeners and farmers in the village, local seamstresses and mural artists in town, carvers, weavers, Zambezi fishermen, or young school children. Witnessing the change in our communities next to Royal Chundu, with the empowerment opportunities we've created through the lodge, it's clear just how much more we can do for our people."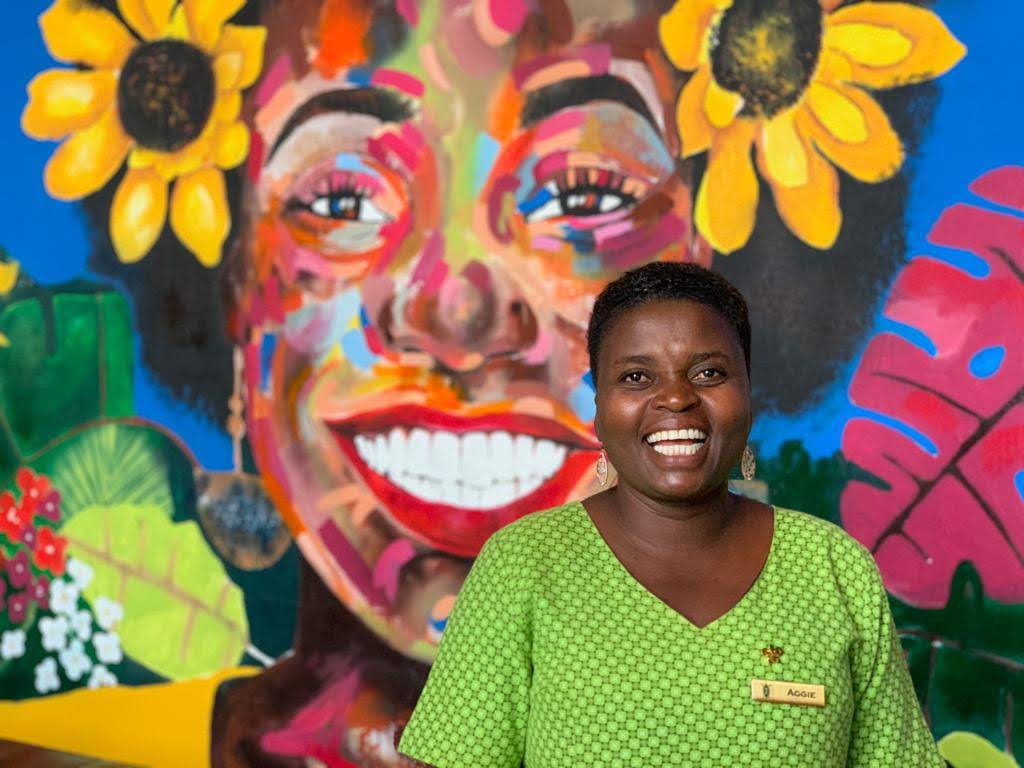 When you meet Aggie on the Zambezi, she will open her arms to you and say, "Welcome home!". She has a warmth that flows outwards like the river itself. It travels in the same way this African waterway spreads out through winding channels with pods of hippos, into bays where children play and women collect water to wash their clothes.
Beyond managing the lodge with an incredible team beside her, Aggie joined hands with Royal Chundu owner, Tina Aponte, to create the Zambezi Joy Society, which blossomed into business in June 2020 with a desire to spread local chitenge cheer around the globe.Through the challenges of COVID-19, Aggie and Tina gathered local Zambian artisans and gave them a marketplace online to make and sell chitenge items, with their spectacular spectrum of colours, and other handmade products, shipping to over 36 countries in the world, to date.  In this way, they helped to empower small business women and men in Zambia, at a time when they needed it the most.
Furthermore, when people couldn't travel internationally during the COVID pandemic, Aggie spread her love for Zambia with her online classes, teaching people to make Zambian Christmas wreaths and doormats using the colourful patterned fabric. Google even flew her over to San Diego, U.S.A. to be a speaker at their women's empowerment conference, in July 2022. When people couldn't come to her, she went to them, shining a light on the country she is so proud to represent.
Aggie says that when women like her achieve something great, that is women from humble beginnings, it shows others that anything is possible. That what is yours is worthy of a voice. "This award," says Aggie, "is not only for me as an individual. It's not only for Royal Chundu as a lodge. It's for all the women and men in Zambia who have a dream to create something beyond their wildest dreams, something with meaning."
Discover more about Aggie:
Aggie Wins We Are Africa Shape Award
8 Questions With The Island Queen Aggie Maseko Banda
Never Mind Maggie's Farm, Here's Aggie's Garden